We hope that you enjoy this taster of life at St Leonard's, which is one of four parish churches within the parish of Redditch Holy Trinity. Here you can find information about weddings and baptism services, times of our regular worship services and information about 'What's On?' St Leonard's church is a lovely and historic building, set in beautiful grounds, and is home to a thriving Church community with Sunday services providing a rich mixture of worship styles. We also have a number of weekly activities, as well as our annual events, such as the Fete and Snowdrop Weekend, which are very much part of the local community calendar. We at St Leonard's strive to be an inclusive church and look forward to welcoming all who would like to join us in worship, and any of our other activities. Please contact us if you want to know more or would like to visit the church.
Rev Paul Irving.
---
Bishop John announces with great sadness the death, after a short illness, of the Revd Canon David Rogers, much loved priest, who was until 2013 Rector of St Leonard's Beoley for 23 years.
David was ordained in 1972 and spent his entire ministry in the Worcester diocese. In retirement, his very considerable ministry focussed upon St Martin, London Road in Worcester and his work as Chairman of the Friends of Holland House. He was aged 69 when he died.
Bishop John said: "I give thanks for David and for the way in which his life has touched very many people for good and for God. May he be welcomed into the loving arms of the Lord he served so faithfully. Please pray for David, his partner, in his loss."
We have opened a book of condolence which will be available at St Leonard's Church on Sunday 13th August and then during the week at St Stephen's Church, returning to St Leonard's again for Sunday 20th August.
We are also looking for any videos of Revd Canon David Rogers, if you have a recording of him speaking or singing and would be willing to share them please contact our parish office on 01527 61543.
---
Our next Messy Church is on Saturday 9 September at St Andrew's on Tanhouse Lane, everyone is welcome.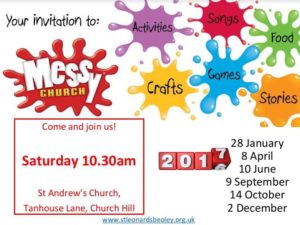 For more forthcoming events, click here